EA did a special live Twitch stream on Thursday, to show off the hotly anticipated MUT 20 Heroes. There will be a total of 32 heroes dropped for the program over the course of the next week. The first 16 heroes will be dropping today (Friday). Some of the players will have a power up, and some won't. See below for more details about the Packs, Heroes, Sidekicks, Exchange Sets and more. 
 (Scroll to the bottom to see all 32 MUT Heroes)
16 First Madden 20 MUT Heroes - Dropping Today (Friday)
Heroes will arrive on different days in stages. They'll be dropping on the 4th, 7th, 9th, 10th and 11th of October. Today (Friday), 16 heroes will drop for specific teams along with 85-86 OVR sidekicks. Along with that, there will be additional sidekicks with 80-81 overalls, but they weren't revealed on the live stream. They'll be show on the game and MUTHead website soon.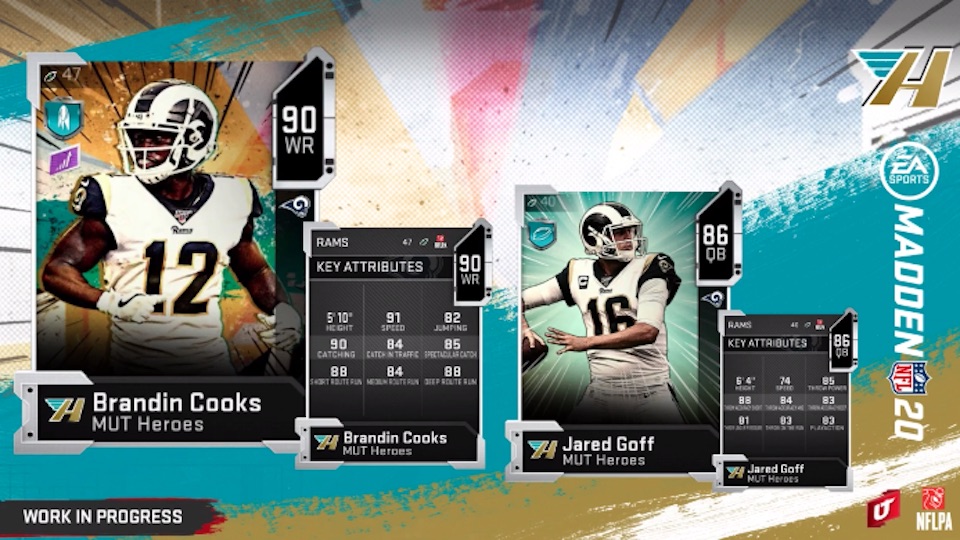 See below for the first 16 Madden 20 MUT Heroes (90-91 OVR) along with Sidekicks (85-86 OVR) that will arrive on Today (Friday)
Bills: C Mitch Morse 90, WR John Brown 85
Broncos: CB Chris Harris Jr. 91, LE Derek Wolfe 86
Cardinals: HB David Johnson 90, WR Larry Fitzgerald 86
Chargers: RE Melvin Ingram III 91, ROLB Thomas Davis Sr. 85
Cowboys: TE Jason Witten 90, RT La'el Collins 85
Dolphins: CB Xavien Howard 90, DT Davon Godchaux 85
Lions: QB Matthew Stafford 90, HB Kerryon Johnson 86
Packers: LT David Bakhtiari 91, WR Marquez Valdes-Scantling 85
Panthers: TE Greg Olsen 91, RG Trai Turner 86
Raiders: FS Lamarcus Joyner 91, ROLB Tahir Whitehead 85
Rams: WR Brandin Cooks 90, QB Jared Goff 86
Ravens: LOLB Matthew Judon 90, CB Marlon Humphrey 86
Redskins: DT Da'Ron Payne 90, CB Josh Norman 86
Seahawks: MLB Bobby Wagner 91, CB Shaquill Griffin 86
Steelers: RB David DeCastro 91, LT Alejandro Villanueva 86
Vikings: WR Adam Thielen 91, RT Brian O'Neill 85
Packs, Exchange Sets & Future Releases
Additional MUT Heroes and Sidekicks will be released on October 7th, 9th 10th and 11th. Among the upcoming players are Jaguars cornerback Jalen Ramsey, Saints quarterback Drew Brees, Bears cornerback Kyle Fuller, and Giants halfback Saquon Barkley.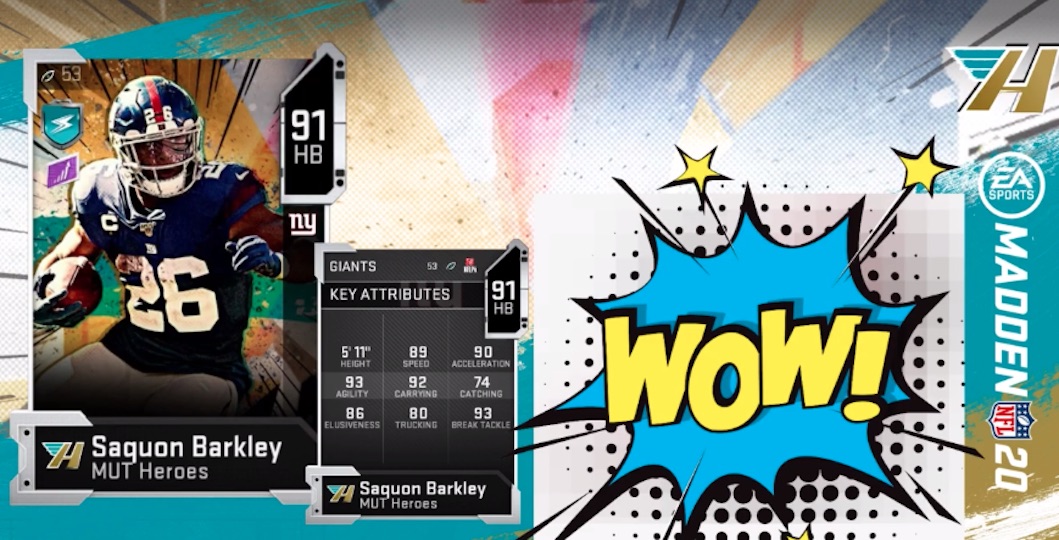 10/7 MUT Heroes Release
49ers DT DeForest Buckner 90 – Sidekick TBA
Buccaneers WR Mike Evans 90 – Sidekick TBA
Jaguars SS Jamal Adams 91 – Sidekick TBA
Titans TE Delanie Walker 91 – Sidekick TBA
10/9 MUT Heroes Release
Bears CB Kyle Fuller 90, Sidekick TBA
Browns LG Joel Bitonio 90, Sidekick TBA
Giants HB Saquon Barkley 91, Sidekick TBA
Texans LE J.J. Watt 91, Sidekick TBA
10/10 MUT Heroes Release
Bengals WR Tyler Boyd 90 – Sidekick TBA
Colts FS Malik Hooker 90 – Sidekick TBA
Jaguars CB Jalen Ramsey 91 – Sidekick TBA
Saints QB Drew Brees 91 – Sidekick TBA
10/11 MUT Heroes Release
RT Mitchell Schwartz (Chiefs 91) – Sidekick TBA
DT Fletcher Cox (Eagles 91) – Sidekick TBA
MLB Deion Jones (Falcons 90) – Sidekick TBA
ROLB Dont'a Hightower (Patriots 90) – Sidekick TBA
New Missions, Exchange Sets, & Store items
New ultimate team missions have been released as part of the MUT Heroes promo. You can earn a NAT MUT Hero Fantasy packs (giving you the chance to choose a MUT hero from the 32 released) - unlock this by earning 140 stars in the MUT Heroes part of mission. 
21 challenges will be available with a total of fiver stars available to achieve on each of them. Players can pick their NAT MUT hero from Wednesday by completing challenges. If you get 70 stars, there's also a MUT Heroes Light jersey rewards, which looks pretty cool
See below for all 32 MUT Heroes cards: